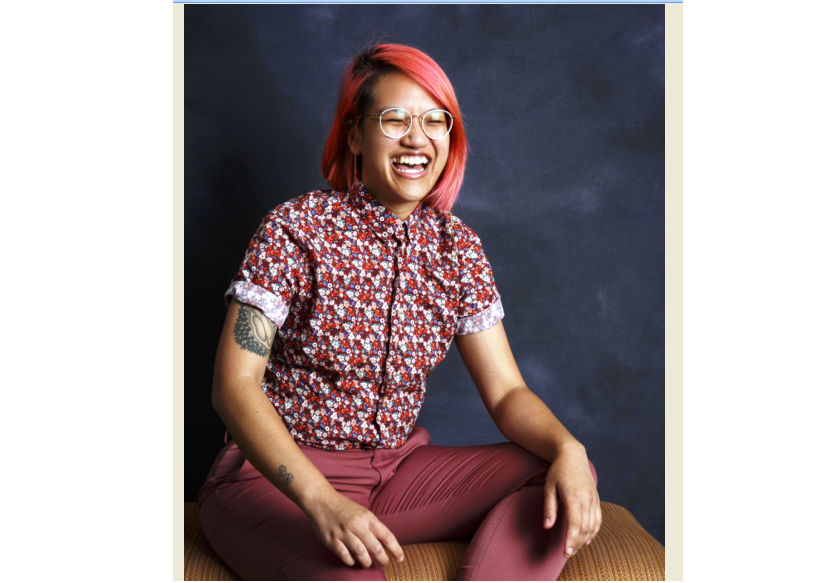 By ADA TSENG (Daily Pilot)
Quyên Nguyen-Le laughed when they (the filmmaker's preferred pronoun) talked about "Love Stinks!" — the 2016 short they made for the Viet Film Fest's "Youth In Motion: A Workshop for Emerging Filmmakers" program.
It's a comedic short about a young woman insecure about her sexuality. The characters innocently walk around, carrying different fruits — a notoriously foul-smelling durian, a bunch of overeager bananas, a snooty pineapple — symbolizing their unique genitalia.
"My friend was like, 'Did you really make a film [that hints at] masturbation and screen it to a family-friendly audience with kids?' " Nguyen-Le said of their debut entry into the festival.
Though "Love Stinks!" is a light-hearted twist on a rom-com, Nguyen-Le's other work — including "Hoài (Ongoing/Memory)," screening at this year's Viet Film Fest, which takes place at the AMC Orange from Oct. 11 to 13 — is more serious, grappling with their identity as a queer and gender non-conforming Vietnamese American.
As an overachieving student at USC (graduating with two majors, comparative literature and philosophy, politics and law, as well as two minors, cinematic arts and Spanish), Nguyen-Le took a film production class taught by actor/director James Franco, where he proposed students make short films inspired by the poetry of Argentinean writer Jorge Luis Borges.
It was Nguyen-Le's first taste of Hollywood, but they soon realized that success in the mainstream film wasn't what they were chasing. They had their own questions that needed answering.
Nguyen-Le's first independent documentary, "Queer Vietnameseness," followed three Vietnamese Americans who identify as queer: a post-punk graphic designer, an academic/activist and Nguyen-Le's cousin, a claims adjuster.
"Hoài (Ongoing/Memory)" (vietfilmfest.com/movie/hoai-ongoing-memory/) will screen at the 2019 Viet Film Fest on Oct. 13 at 3:30 p.m. Nguyen-Le will also be moderating a panel on Oct. 12 from 5 to 6 p.m. called "From Script to Screen: Pathways and Possibilities" at with Leon Le ("Song Lang"), Maegan Houang ("In Full Bloom"), Van B. Nguyen ("Thanksgiving), and Thien A. Pham ("Actress Wanted"), and participating in a panel called "Reconciling Homelands" on Oct. 13 from 5 to 6 p.m. with Tim Tsai and Thao Ha of "Seadrift" and Allison Vo from the social justice organization VietRISE.