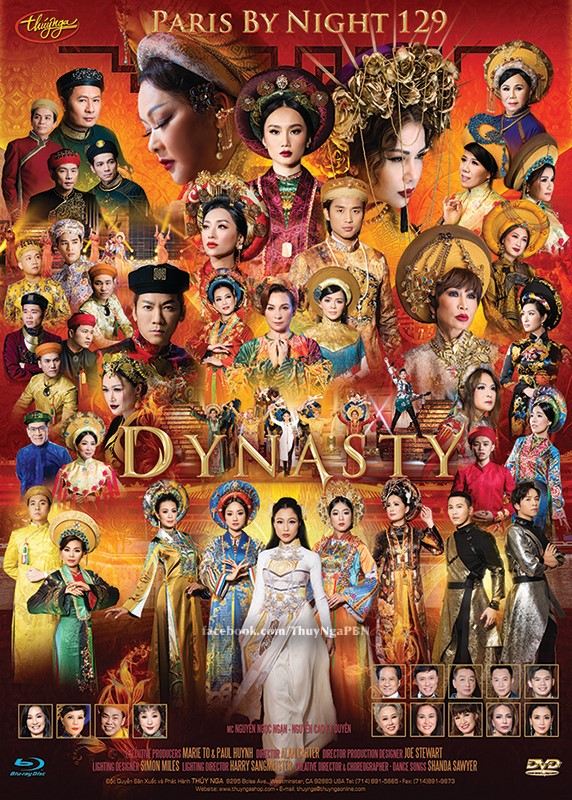 One of Trung Tâm Thúy Nga's most anticipated shows this year, Paris By Night 129 has finally been released onto DVD and Blu-Ray! The show's theme, "Dynasty" is a highly creative concept that not only focuses on the dynasties of Vietnamese history, but also takes time to highlight different "musical dynasties" that have created a lasting impact on Vietnamese music. Fans awaiting the release of Paris By Night 129 can expect a lot elaborate and glamorous costumes that resemble Vietnamese royalty, as well as intricate stage sets that will take the audience back in time.
Some performances to look forward to include the extravagant opening performance, "Không Lạc Loài" with Hoàng Mỹ An, Don Hồ, Thiên Tôn, Ngọc Anh and Quỳnh Vi; Hà Thanh Xuân's graceful portrayal of the princess Huyền Trần in "Tình Sử Huyền Trần"; and the stunning fashion show featuring 12 female singers walking to "Dáng Lụa Cung Tơ" performed by Hoàng Anh Khang.
As mentioned, the show also highlights "musical dynasties" – influential families, songwriters, and singers. Sisters Thái Thảo and Thái Hiền return to Paris By Night to perform a medley of songs by their father, Phạm Duy. Bằng Kiều highlights his son Beckham in a special performance of "Hãy Sống Theo Những Gì Con Muốn". Ý Lan, Đình Bảo and Khải Đăng honour the songs of Phạm Đình Chương, while Lam Anh and Đình Bảo pay homage to Ngô Thuỵ Miên. Siblings Tuấn Ngọc, Khánh Hà, Thúy Anh, and Lưu Bích perform a tribute to their family band, The Uptight, while Chế Linh, Trường Vũ, and Đan Nguyên perform as 3 different generations of influential singers of nhạc quê hương. Phi Nhung, Như Quỳnh, Mai Thiên Vân, Hạ Vy and Hương Thủy also perform alongside Thanh Tuyền in honour of her long standing career.
Paris By Night 129, "Dynasty" is definitely full of performances fans will not want to miss out on. Be sure to purchase an ORIGINAL copy at your local Vietnamese music store, or order online at www.thuyngashop.com.

Dương Thái Hoà
Dương Thái Hòa has always been passionate about Vietnamese music. Graduating from the University of Toronto with a Bachelor of Music, Thái Hòa currently performs alongside the Liberty Band in shows within the Vietnamese community. In addition, Thái Hòa also writes, records and performs his own music on his YouTube channel: www.youtube.com/JamesDuongMusic