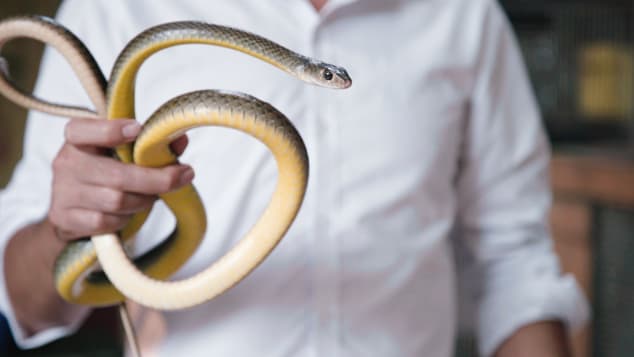 Hanoi (CNN) — Hungry parties can order the cobra, but diners with more moderate appetites will probably want to select a smaller snake from Nguyen Van Duc, a popular restaurant in Le Mat — aka "Snake Village."
This quiet, residential neighborhood in Hanoi, Vietnam, is famous for offering cuisine centered around the slithery reptiles, and 20-year veteran Nguyen Van Duc is one of the most popular for first-timers and locals alike.
Van Duc manager Nguyen Hoang Long, who oversees the sprawling property, tells CNN Travel the village has been catching and breeding snakes for around 200 years.
After seating a group of twentysomething backpackers, he explains the history of snakes in Vietnamese cuisine, saying it all began with blood.
"In ancient times, villagers used this [snake blood] to heal headaches," says Long, adding that snake bile, another healing agent, is good for sore throats and "bone problems."
Long is vague on the details surrounding proper dosage and consumption, but under his watch diners aren't so much consuming snake for its ability to cure ailments as they are for the adrenaline rush — and a story to tell back home.
For locals, snake is familiar and expected, a natural part of their diet. For foreigners, it's perhaps the ultimate foodie thrill ride.
Van Duc's snake dishes draw on Vietnamese culture and flavors — helpful in getting fearful diners to give it a try. The intrepid traveler preparing to taste snake for the first time may be comforted by the familiar aroma and taste of fresh basil, fish sauce and garlic.
However this doesn't apply to the fresh snake heart, aThe rest of the dishes at Van Duc are served family style and considerably more palatable. There's no printed menu and restaurant staff speak limited English so can't explain much about the cooking styles.
But use your nose and you'll get a whiff of chilies and coriander, while dishes cooked in a hot, oil-coated wok smell smoky and rich. one-bite dish reserved for the truly adventurous, non-squeamish eater.