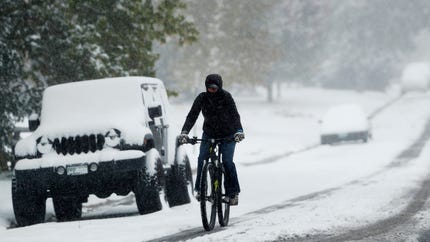 (USA Today):A record-breaking cold front is expected to sweep across the U.S. from Sunday November 10th into Tuesday November 12th, with freezing temperatures stretching as far south as parts of the Gulf Coast.
The National Weather Service is forecasting more than 170 potential record-setting cold high temperatures Monday to Wednesday.
On Saturday, record lows were expected across the Northeast, with Baltimore, Newark and Philadelphia each bottoming out in the mid-20s. More were expected across the South and Midwest Tuesday, when parts of Texas could drop to 16 degrees. Cities in Texas and Louisiana were predicted to reach highs in the mid-40s, breaking records set decades ago.

Where will the arctic blast hit?
The front will plunge down from the arctic through the northern Plains and upper Midwest Sunday, when temperatures could be 20 to 30 degrees below normal in some areas, the Weather Channel said. The cold will sweep into the southern Plains and Ohio Valley Monday, then through most of the East Coast and Deep South by Tuesday.
High temperatures on Monday may be stuck in the teens and 20s in the Midwest and around the Great Lakes. It could be the coldest Veterans Day on record in cities such as Chicago and Minneapolis, according to the Weather Channel.